You are here:
Mapping and visualization > An overview of mapping and visualization
This section provides an introduction and overview to ArcMap, which is the central application used in ArcGIS. ArcMap is where you display and explore the datasets for your study area, where you assign symbols, and where you create map layouts for printing or publication. ArcMap is also the application you use to create and edit datasets.

ArcMap represents geographic information as a collection of layers and other elements in a map. Common map elements include the data frame containing map layers for a given extent plus a scale bar, north arrow, title, descriptive text, a symbol legend, and so on.


ArcMap documents
When you save a map you have created in ArcMap, it will be saved as a file on disk. A filename extension (.mxd) will be automatically appended to your map document name. You can work with an existing .mxd by double-clicking the document to open it. This will start an ArcMap session for that .mxd.
Map documents contain display properties of the geographic information you work with in the map—such as the properties and definitions of your map layers, data frames, and the map layout for printing—plus any optional customizations and macros that you add to your map.
Views in ArcMap
ArcMap displays map contents in one of two views:
Each view lets you look at and interact with the map in a specific way.
In ArcMap data view, the map is the data frame. This view hides all the map elements on the layout, such as titles, north arrows, and scale bars, and lets you focus on the data in a single data frame, for instance, editing or analysis. In data view, the active data frame is presented as a geographic window in which map layers are displayed and used. Within a data frame, you work with GIS information presented through map layers using geographic (real-world) coordinates. These will typically be ground measurements in units such as feet, meters, or measures of latitude-longitude (such as decimal degrees).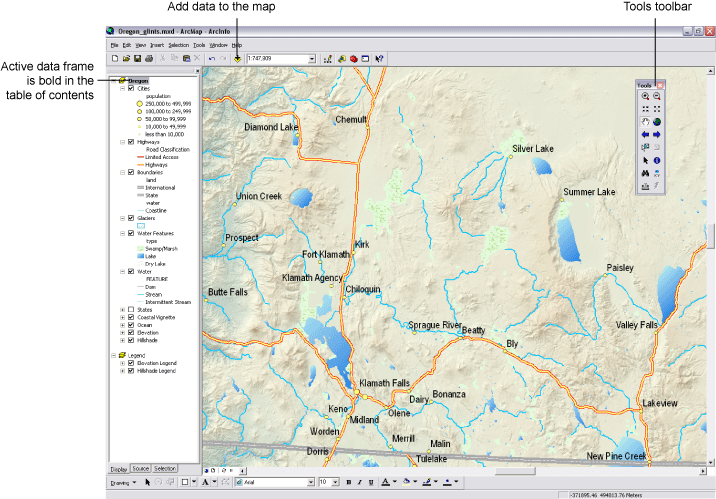 When you're preparing your map's layout, you'll want to work with it in layout view. Layout view is used to design and author a map for printing, exporting, or publishing. You can manage map elements within the page space (typically, inches or centimeters), add new map elements, and preview what your map will look like before exporting or printing it. Common map elements include: data frames with map layers, scale bars, north arrows, symbol legends, map titles, text, and other graphical elements.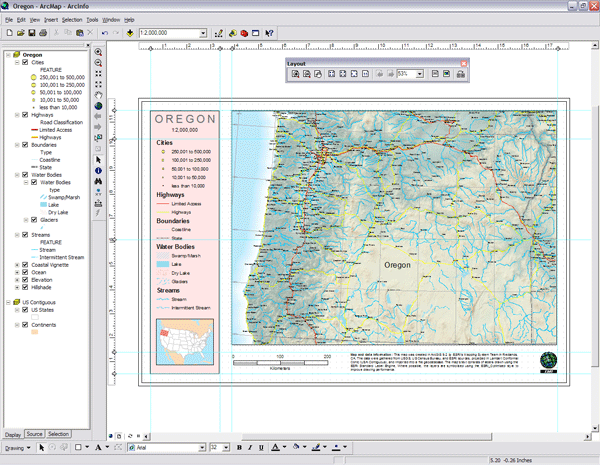 Data frames
A data frame is the most fundamental element in a map document and in the ArcMap user interface. The data frame provides the principal display of geographic information as a series of map layers. Data frames have properties that define the context for the data with which you work; these include the coordinate system, measurement units, scale, the drawing order of layers, and so on. In ArcMap, data view isolates the contents of a data frame for you to edit or work with. The primary contents you work with in a data frame are map layers and attribute tables.
When you create a map, it contains a default data frame listed in the table of contents as Layers. ArcMap always has at least one data frame, but you can add more.
Map layers
Geographic data is represented on a map as a layer. Within the data frame, you display geographic datasets as layers, where each layer represents a particular dataset overlayed in the map. In addition to representing geographic information, each layer's map symbols, colors, and labels help to describe the objects in the map. You work with the layers displayed in each data frame to query features and see their attributes, perform analytical operations, and edit and add new features to each dataset.