You are here:
Map projections and coordinate systems > Supported map projections
Description
This projection was developed in 1972 by the USGS to publish a map of Alaska at 1:2,500,000 scale.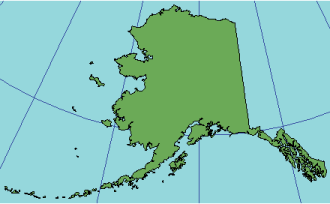 Projection method
Approximates Equidistant Conic, although it is commonly referred to as a Modified Transverse Mercator.
Learn more about the Equidistant Conic projection


Lines of contact
The standard parallels at 53°30' N and 66°05'24" N.


Linear graticules
The meridians are straight lines radiating from a center point. The parallels closely approximate concentric circular arcs.


Properties
Shape
Neither conformal nor equal area.
Area
Neither conformal nor equal area.
Direction
Distortion increases with distance from the standard parallels.
Distance
Accurate along the standard parallels.
Limitations
This projection is appropriate for mapping Alaska, the Aleutian Islands, and the Bering Sea region only.


Uses and applications
1972 USGS revision of a 1954 Alaska map that published at 1:2,500,000 scale.
1974 map of the Aleutian Islands and the Bering Sea was published.


Parameters
Projection-specific parameters are set by the software.


Please visit the
Feedback
page to comment or give suggestions on ArcGIS Desktop Help.
Copyright © Environmental Systems Research Institute, Inc.