You are here:
Map projections and coordinate systems > Supported map projections
Description
A pseudo cylindrical equal-area projection.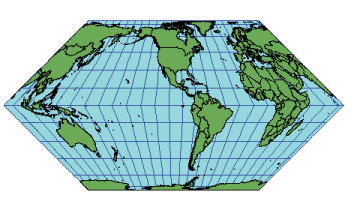 Projection method
A pseudo cylindrical projection.

Parallels are unequally spaced straight lines. Meridians are equally spaced straight lines. The poles and the central meridian are straight lines half as long as the equator.


Properties
Shape
Shape isn't preserved.
Area
Area is preserved.
Direction
Direction is distorted everywhere.
Distance
Scale is correct along 55°10' N and S.
Limitations
Discontinuities exist at the equator.


Uses and applications
Useful only as a novelty.


Parameters
Desktop
False Easting

False Northing

Central Meridian

Supported on spheres only

Please visit the
Feedback
page to comment or give suggestions on ArcGIS Desktop Help.
Copyright © Environmental Systems Research Institute, Inc.