You are here:
Geoprocessing > Using geoprocessing tools > Using the tool dialog
Once you have filled in all parameters correctly, you execute the tool by clicking OK. A progress dialog box will appear that gives execution details. You can cancel tool execution from this dialog.
There are additional settings to control whether tool results are to be displayed in ArcMap, the default location where tool output is written, and whether the tool results are temporary.
Learn more about controlling tool results


Messages and the progress dialog
Viewing execution messages
Once tool execution begins, the tool message box appears. Click Details to view the execution messages.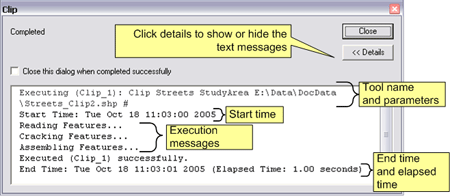 Warning and error messages
A warning message will appear as green text in the tool's messages. A warning means that the output may not contain what you expect. In the example below, the clip polygon contained no features, so, basically, nothing happened—the output dataset exists, but is empty.
An error message appears in red text. In this case, the tool could not proceed and no output exists.

Cancelling tool execution
During tool execution, you can cancel execution by clicking the Cancel button in the progress dialog. When a tool receives the cancel instruction, it attempts to clean up after itself, deleting any data it created and issuing a warning message. Depending on the type of clean-up work the tool was doing, cancelling may take a few moments.



Please visit the
Feedback
page to comment or give suggestions on ArcGIS Desktop Help.
Copyright © Environmental Systems Research Institute, Inc.