You are here:
Geoprocessing tool reference > Data Management toolbox > Generalization toolset

The Aggregate Polygon tool combines polygons within a specified distance to each other into new polygons.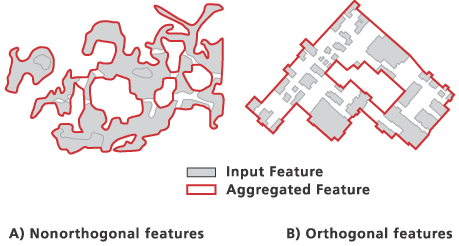 The Dissolve tool aggregates features based on a specified attribute or attributes.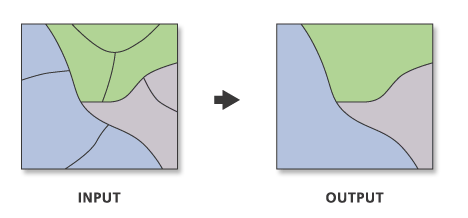 The Eliminate tool merges the selected polygons with neighboring polygons with the largest shared border or with the largest area.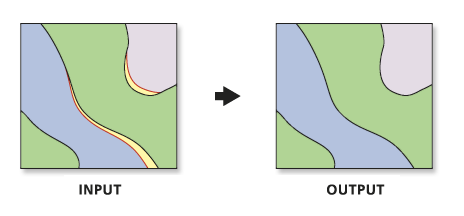 The Simplify Building tool simplifies the boundary or footprint of building polygons while maintaining their essential shape and size. Simplification will take place according to the specified tolerances.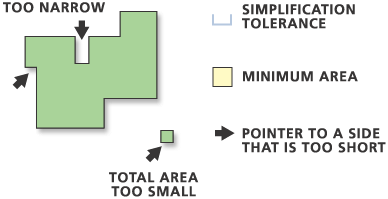 Each separate building, with or without holes, will be simplified by itself. Buildings connected with straight lines will be simplified as a group. Buildings connected in more complicated ways will not be simplified. See the illustrations below.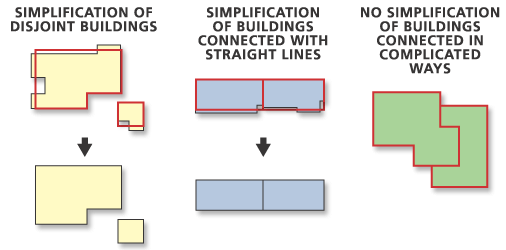 The Simplify Polygon tool simplifies a polygon by removing small fluctuations or extraneous bends from its boundary while preserving its essential shape.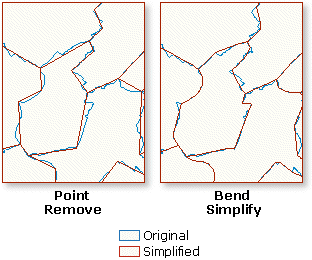 The Smooth Polygon tool smooths a polygon boundary to improve its aesthetic quality. PAEK and BEZIER INTERPOLATION are the smoothing algorithms.

Polynomial Approximation with Exponential Kernel (PAEK) calculates smoothed lines using a continuous local averaging technique with a convolution kernel, which is a function of the length of a "moving" path along an input line. The resulting polygon boundaries do not pass through the input vertices except at the endpoints of polygon rings.

The BEZIER INTERPOLATION algorithm fits Bézier curves through every line segment along an input line. The Bessel tangent is used to ensure that curves connect smoothly at vertices. The resulting lines pass through input vertices.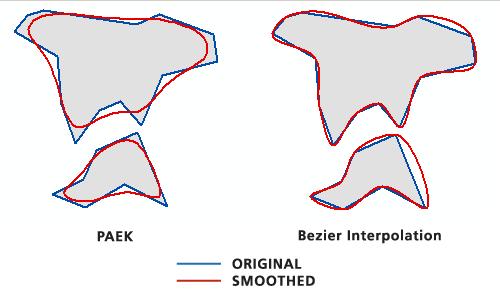 Please visit the
Feedback
page to comment or give suggestions on ArcGIS Desktop Help.
Copyright © Environmental Systems Research Institute, Inc.