You are here:
Mapping and visualization > Symbolizing data > Applying symbology
About showing multiple attributes when drawing features
Geographic data usually has a number of different that describe the features it represents. While you'll commonly use one of the attributes to symbolize the data, for example, showing categories or quantities, you may sometimes use more than one.
For example, you might display a road network using two attributes: one representing the type of road and the other representing the traffic volume. In this case, you could use line colors to represent the different types of roads and also use line width to indicate traffic volume along each road.

When you symbolize your data using more than one attribute, you create a multivariate display. Symbolizing your data this way allows you to display more information; however, it can also make your map more difficult to interpret. Sometimes it's better to create two separate displays than to try to display the information together.


Example multivariate map
This multivariate map shows the level of human impact on the natural landscape of Australia. Major habitat types can be shown with unique colors, and the level of disturbance for each habitat can be shown with a graduated symbol. The larger the symbol, the higher the human impact is on the particular habitat.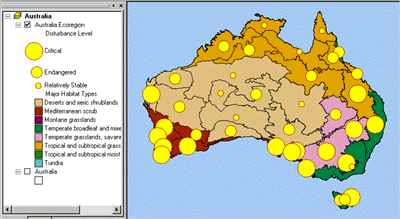 How to draw features showing both categories and quantities
Right-click the layer in the you want to draw showing multiple attributes and click Properties.

Click the Symbology tab.

Click Multiple attributes.

ArcMap automatically selects the Quantity by category option.

Click the first Value Field drop-down arrow and click the field that contains the values you want to map.

Click the Color Scheme drop-down arrow and click a color scheme.

Click Add All Values.

Click Symbol Size or Color Ramp, depending on how you want to symbolize the quantitative value.

This example uses Symbol Size.

Click the Value drop-down arrow and click the quantitative value you want to map.

Set other options for drawing features to show quantities and click OK.

Click OK on the Layer Properties dialog box.

Please visit the
Feedback
page to comment or give suggestions on ArcGIS Desktop Help.
Copyright © Environmental Systems Research Institute, Inc.