You are here:
Mobile GIS > ArcGIS Mobile integration
Maps and datasets that you author and build using ArcGIS Desktop applications can be accessed in the field using ArcGIS Mobile. Using ArcGIS Mobile, you can display/navigate maps and data, collect new GIS features using a GPS device or by sketching on top of a map, and/or inspect and update feature attribute information.
ArcGIS Mobile leverages GIS services that are published using ArcGIS Server to synchronize maps and data between the mobile device and a GIS server. ArcGIS Mobile applications can be configured using the ArcGIS Server Manager application, or you can build focused applications using the ArcGIS Mobile .NET SDK.
The ArcGIS Mobile application is a task-driven mobile application that runs on Windows Mobile 5 and Windows Mobile 6 Pocket PC and smartphone devices.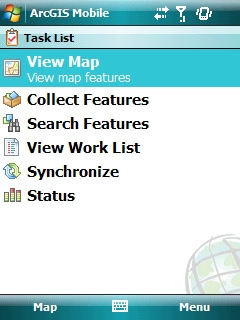 You can use the ArcGIS Mobile application to
View and navigate maps and features.

Collect new GIS features using a GPS device.

Search and organize map features that you need to visit.

Update existing GIS feature attributes.

The ArcGIS Mobile SDK includes a set of coarse grained developer components that can be assembled together to build focused applications that run on a range of device platforms (Windows Mobile Smartphone, Windows Mobile Pocket PC, Windows CE .NET, and Windows XP/Vista).
To support the use of field applications powered by ArcGIS Mobile technology, you will need to use both ArcGIS Desktop and ArcGIS Server.
Please visit the
Feedback
page to comment or give suggestions on ArcGIS Desktop Help.
Copyright © Environmental Systems Research Institute, Inc.