Accessing ArcGIS online from ArcGIS Explorer allows you to search and access content stored on the internet without starting a web browser. Accessing content from ArcGIS online… is focused on finding and downloading content from www.arcgis.com that can be used in ArcGIS Explorer. You can also search within a specific organization or ArcGIS online portal.
Search ArcGIS online
Click the Search Window Button in the map group on the home tab

This opens the Online Search window.

Type in an item of interest to search for on ArcGIS online. The listed search results can be opened in or added to ArcGIS Explorer. Simply click on a result to view it in ArcGIS Explorer.
Working with results
You can perform several operations on each search result:
Clicking on a search result item name will open it. For example, you can click on a ArcGIS Explorer Map name to open it in ArcGIS Explorer; clicking on a Layer Package name will add it to ArcGIS Explorer as a new layer.
Right-click each result item name to show more actions on the item.
Hover the pointer over a search result name to view its item description in a pop-up window. Please note that this option is turned on by default. You can enable and disable it using the Search Options button on the Search window.
Click on the result snippet (that is, the short phrase underneath each item name) to open the item description.
By default, search results are sorted by relevance. You can change the sort order by clicking the Sort By link and choosing a different field to sort search results. When appropriate, you can also sort results in ascending/descending order.
Tip: The following item types can be added to ArcGIS Explorer from ArcGIS online:
Explorer Add-ins (.eaz)
Explorer Layer (.nmc)
Explorer Map (.nmf)
Globe Services
Image Services
KML/Z
Layer Packages
Map Services
Web Maps
Sign in to ArcGIS online to see your items or specify a specific organization or portal
While anyone can find and use public content from ArcGIS online, signing in gives you access to your private content. You also need to sign in if you are going to upload content to your ArcGIS online account.
Click the ArcGIS Explorer Button .
Click Sign in... then type in your username and password.

Click the Sign in button to sign in.
Once you are signed in the sign in file menu will change to sign out and display your user name. When you are signed in, search results will return your private content and the private content in Groups or an organization that you belong to.
To search a specific organization or portal click Manage Portal Connections and add your URL.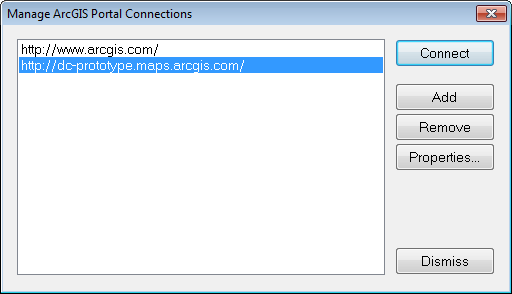 Search Options
Useful links