Raster basics
Raster basics

Release 9.3
Raster datasets represent geographic features by dividing the world into discrete square or rectangular cells laid out in a grid. Each cell has a value that is used to represent some characteristic of that location.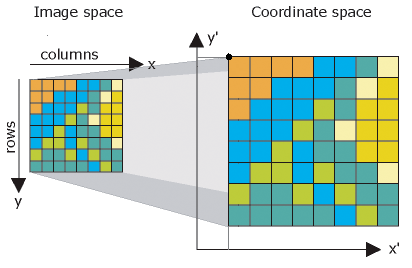 Raster datasets are commonly used for representing and managing imagery, digital elevation models, and numerous other phenomena. Often rasters are used as a way to represent point, line, and polygon features. In the example below, you can see how a series of polygons would be represented as a raster dataset.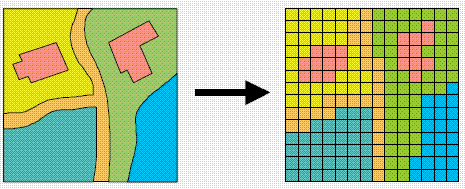 Rasters are interesting for at least two reasons: one, they can be used to represent all geographic information (features, images, and surfaces) and two, they have a rich set of analytic geoprocessing operators. Therefore, in addition to being a universal data type for holding imagery in GIS, rasters are also heavily used to represent features enabling all geographic objects to be used in raster-based modeling and analysis.