You are here:
Editing in ArcMap > Editing existing features
About flipping lines
When you modify a line by trimming or extending it, the line is automatically trimmed or extended from its last . If you want to trim or extend a line from the first vertex instead of the last, you can use the Flip command. The Flip command reverses the direction of a line so that the last vertex of the becomes the first.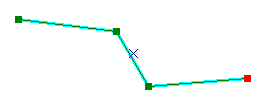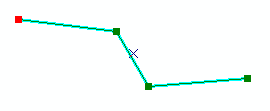 How to flip lines
Click the Current Task dropdown arrow and click Modify Feature.
Click the Edit tool .
Click the line whose direction you want to change.
Right-click any part of the sketch and click Flip.

The sketch becomes inverted (the first vertex becomes the last, marked in red).

When you are finished modifying the line, right-click any part of the sketch and click Finish Sketch.
Please visit the
Feedback
page to comment or give suggestions on ArcGIS Desktop Help.
Copyright © Environmental Systems Research Institute, Inc.