You are here:
Geodatabases and ArcSDE > Data management workflows, transactions, and versioning > Managing Distributed Data
Geodatabase replication uses versioning during the synchronization process. Versioning is used to determine the changes to send and also when receiving changes. The following describes how versioning is used in each of these processes:


Sending Changes - When a replica sends changes, ArcSDE determines which edits to send by analyzing the replica version (defined during replica creation) and some system versions. This analysis may filter out edits that have already been sent during earlier synchronizations or determine that some changes need to be re-sent. For check-out replicas in file or personal geodatabases, an internal table containing all edits is analyzed.

Receiving Changes - When a replica receives changes, the following occurs:



First, the changes are applied to the synchronization version. The synchronization version is a child of the replica version. It is designed to temporarily hold these changes until they are reconciled and posted to the replica version. For two way and one way replicas, the version may not be created till synchronization time while for check-out replicas, the version is created at creation time.






Next the synchronization version is reconciled against the replica version. The behavior at this step depends on the replica type:



Two way replicas - For two way replicas, there can be conflicts during the reconcile. If there are conflicts, a reconcile policy is used to determine how to handle the conflicts. You can choose between automatic and manual reconcile policies during synchronization. See synchronizing connected replicas and synchronizing disconnected replicas to see how to apply these options in connected and disconnected environments. If the there are no conflicts or conflicts are resolved by an automatic reconcile policy, the replica version is posted with the synchronization version.



Check-out replicas - For check-out replicas, reconcile and post is optional and is not executed by default. If you choose to not reconcile and post, the changes remain in the synchronization version. You can then reconcile and post manually at a later time. If you do decide to reconcile and post, the behavior is the same as with two way replicas.



One way replicas - With one way replicas, changes in the replica version are always over-written and there are never unresolved conflicts. When using a simple model type, the child replica's data may not be versioned. If this is the case, changes are applied directly to the base tables and versioning is not used when receiving changes.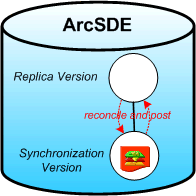 Once the changes have been posted to the replica version, the synchronization version will be deleted. If you choose a manual reconcile policy and there are conflicts, it is up to you to perform the reconcile and post on your own at a later time. For two way replicas, as long as the synchronization version exists, the replica is considered in conflict. While in conflict, changes can be received but not sent from the replica.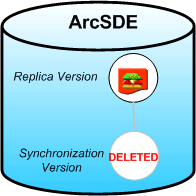 Please visit the
Feedback
page to comment or give suggestions on ArcGIS Desktop Help.
Copyright © Environmental Systems Research Institute, Inc.