You are here:
Extensions > 3D Analyst > Terrain surfaces

Terrain datasets are an efficient way to manage large point based data in a geodatabase and produce high quality, accurate surfaces on the fly. LIDAR, SONAR, and elevation measurements can number from several hundred thousand to many billions of points. Organizing, cataloging, and generating 3D products from these types of data is difficult at best and prohibitive in many cases. Terrain datasets allow you to overcome these data management hurdles, edit your source data, and produce high accuracy Triangular Irregular Networks (TINs) at varying resolutions.

Terrains are a new dataset for ArcGIS 9.2. They live inside feature datasets in personal, file or SDE geodatabases. The other feature classes in the feature dataset can participate in the terrain or actually be embedded in the terrain, which means that the source data could be moved off-line after the creation of the terrain dataset. The graphic below illustrates how multiple types of feature classes can participate to generate TIN pyramids.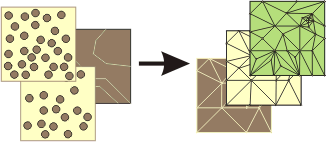 Terrain datasets are unique in that they can either embed or reference the source data. Through the indexing of each point measurement, a set of TIN pyramids are generated, each with successively fewer participating nodes (source points). This allows ArcMap and ArcGlobe to generate a TIN on the fly at whatever resolution is needed for the scale of the viewer. Small scale displays of data require fewer points and, thus, a lower resolution TIN is rendered. As the viewer zooms in, a smaller area of the dataset is required but at higher resolution. The density of points increases, but performance is not hindered because a high resolution surface is only rendered for the displayed area.

Terrain datasets are supported for reading and viewing at all licencing levels: ArcView, ArcEditor, and ArcInfo. Terrains can be created with ArcEditor and ArcInfo with the ArcGIS 3D Analyst extension. ArcScene does not support Terrain datasets.

To find out more about Terrains, visit the following pages in the Terrain Dataset help:


Please visit the
Feedback
page to comment or give suggestions on ArcGIS Desktop Help.
Copyright © Environmental Systems Research Institute, Inc.