You are here:
Extensions > Spatial Analyst > Analysis concepts > Surface analysis
The Cut/Fill tool summarizes the areas and volumes of change between two surfaces. It identifies the areas and volume of the surface that have been modified by the removal or addition of surface material.

Learn how to calculate cut/fill using the Cut/Fill tool

Learn how to calculate cut/fill using the Spatial Analyst toolbar

By taking two surface rasters of a given area from two different time periods, the Cut/Fill tool will produce a raster of regions where material was removed, added, or where the surface did not change. The attribute table of the raster contains the volume and area of each of the connected regions. In the attribute table, in regions where material was cut the value in the Volume field will be positive. In regions where material was filled, the Volume is negative.

Using river morphology as an example, to track the amount and location of erosion and deposition in a river valley, a series of cross sections need to be taken through the valley and surveyed on a regular basis to identify regions of sediment erosion and deposition.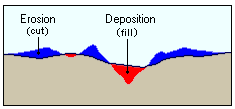 Please visit the
Feedback
page to comment or give suggestions on ArcGIS Desktop Help.
Copyright © Environmental Systems Research Institute, Inc.