You are here:
Customizing and developing with ArcGIS > Writing macros using VBA
About updating the ArcID module
The Normal project in ArcMap, ArcCatalog, ArcGlobe, and ArcScene includes the module ArcID. This module contains a public property for each command in the application. The property uses the name of each command and creates a unique identifier (UID) from the globally unique identifier (GUID) of that command so that it can be created or referenced in the macro you create. You can think of it as a shortcut for finding a command or tool.
If you are developing applications or writing that make use of objects that you've added from a custom .dll, you can update the Normal.ArcID module to include your newly added commands in addition to the default commands that the application provides. In this way, you'll be able to refer to your custom COM objects by name—just as you would any other command in the application. Updating the ArcID module also allows you to keep Normal.ArcID up to date should you remove a custom command or tool from a command bar and are not sure what category it belongs to.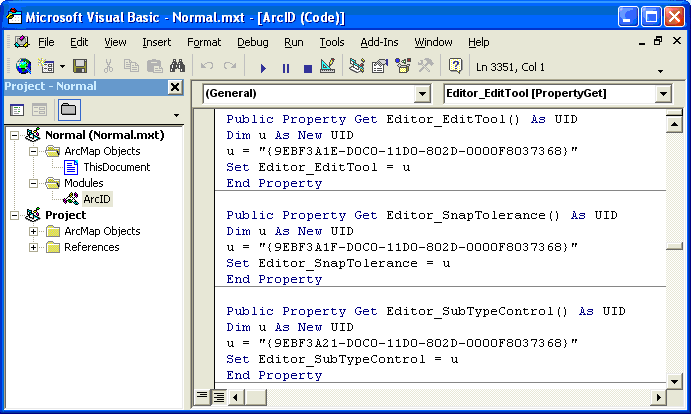 How to update the ArcID module
Click the Tools menu and click Customize.

Click the Options tab.

Click Update ArcID Module.

Click Close.

Please visit the
Feedback
page to comment or give suggestions on ArcGIS Desktop Help.
Copyright © Environmental Systems Research Institute, Inc.