You are here:
GIS Servers and services
For a complete overview of ESRI's server technology, see Chapter 4, "Server GIS: ArcIMS, ArcGIS Server, and ArcGIS Image Server" in What is ArcGIS.pdf.


NOTE: If this link doesn't work, you can view the What is ArcGIS 9.2? Help topic , or open the PDF document (what_is_arcgis.pdf) from the \arcgis\Documentation folder in your ArcGIS Desktop install location.
All ArcGIS Desktop applications can use GIS services found on the web or on your LAN (Local Area Network). You can connect to three different kinds of servers, ArcIMS, ArcGIS, and WMS, all of which offer a range of services, such as maps, data, geoprocessing, mobile maps, and geocoding. The three types of servers are found in the GIS Servers folder in the ArcCatalog tree, as illustrated below.

You connect to a server by double-clicking one of the three Add Server entries under the GIS Servers folder. (If the GIS Servers folder does not appear in your ArcCatalog tree, click Options in the Tool menu, click the General tab, then enable GIS Services in the list of top level entries.)
The GIS Servers folder also contains an out-of-the-box connection to Geography Network Services hosted by ESRI. This is a connection to an ArcIMS Server residing at ESRI that contains many useful and interesting services, and you should take the opportunity to explore this server when possible. Simply double-click the connection and view the services in the Contents pane of ArcCatalog, as illustrated below. ESRI may add more out-of-the-box connections in the future.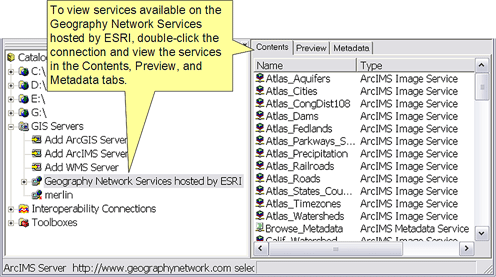 Learn more about GIS Servers and their services
Learn more about GIS Servers folder and managing connections
With ArcGIS Desktop, you can use services from any server. You can also author and publish services to an ArcGIS Server (as long as you have administrative access to a server).
Learn more about authoring and publishing services
If you are a server administrator, you can use ArcCatalog to perform actions such as starting and stopping services or reconfiguring their properties.
Learn more about administering ArcGIS Server in ArcCatalog
About ArcGIS Server
ArcGIS Server is a comprehensive web-based GIS that provides a range of out-of-the-box end user applications and services for mapping, analysis, data collection, editing, and management of spatial information. ArcGIS Server provides a server-based platform upon which ArcGIS Desktop users can easily publish and serve their geographic knowledge to the broader organization. ArcGIS Server supports access using a range of desktop, custom, mobile, and browser-based clients.

ArcGIS Server also includes the ArcSDE data management technology for managing multi-user, transactional geodatabases using a number of relational DBMS's.
As a user of ArcView, ArcEditor, or ArcInfo, you can apply ArcGIS Server in a number of critical ways:


You can use (consume) ArcGIS services in desktop applications. You don't need the ArcGIS Server product installed to use ArcGIS Server. All you need is an Internet connection.

Learn more about using GIS Services in ArcGIS Desktop


You can author and publish ArcGIS services as long as you have an account on an ArcGIS Server.


Using ArcGIS Server, you can serve your maps to a range of client applications—other ArcGIS Desktop seats, ArcGIS Engine applications, Web browser maps, mobile maps, and ArcGIS Explorer maps. These applications can support many GIS tasks and audiences.



You can create your own virtual 3D worlds in ArcGlobe and serve them with ArcGIS Server. This like creating your own rich kind of Google Earth services with your own basemap contents to which you can add sophisticated work tasks that can be performed in your global views. You can also create a 2D map service in ArcMap then view it in 3D using ArcGIS Explorer.



You can centralize a multitude of GIS work tasks by publishing your geoprocessing models and scripts to automate work and to perform analysis with the server.



You can serve address geocoding locators and use these to find GIS locations for any address or table of addresses.



You can provide access to shared geodatabases for maintaining and editing your geographic information openly across a range of clients and by many users.



You can take GIS to the field on a range of mobile devices and work with that information in a connected or disconnected mode.



You can synchronize updates in your central server, without having to return to the office using remote server connections.


Learn more about authoring and publishing services






You can administer certain aspects about ArcGIS Server through ArcCatalog.

Learn more about administering ArcGIS Server in ArcCatalog


Authoring and publishing GIS "resources" using ArcGIS Desktop
ArcGIS Server allows you to share your GIS resources across an enterprise and across the web. ArcGIS 9.2 Server leverages ArcGIS Desktop by allowing you to author maps, globes, and geoprocessing tasks on your desktop and then publish these to ArcGIS Server. Publishing can be performed inside ArcGIS Desktop using ArcCatalog.
Alternatively, a browser-based application called the ArcGIS Server Manager can be used to publish maps, globes, geoprocessing tools, and other GIS resources.
You share these resources by first hosting them on your ArcGIS Server as a web service, and then enabling a series of client applications (and other servers) to use and interact with the resources.