You are here:
Geoprocessing > Automating your work with models > Using ModelBuilder

ModelBuilder is an application in which you create, edit, and manage models. If you haven't done so already, you should read Creating a simple model, for it shows you, by example, the basic tasks of creating a model in ModelBuilder. You should also read An overview of model concepts and terms and the topics referenced there, since they define many of the terms used here.

The components of the ModelBuilder application are shown below.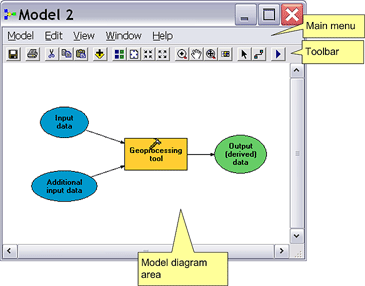 There are five pull-down menus on the Main menu.


Model
Options for running, validating, viewing messages, saving, printing, importing, exporting, and closing the model. You can also use this menu to delete intermediate data and set properties for the model.
Edit
Cut, copy, paste, delete, and select model elements.
View
Contains an Auto Layout option that applies the settings specified in the Diagram Properties dialog box to your model. It also contains options for zooming in or out.
Window
Contains an overview window you can use to display the entire model while you zoom in on a certain part of the model in the display window.
Help
Access the ArcGIS Desktop online Help system and the About ModelBuilder box.
The toolbar has the following buttons and tools:

Read a synopsis of this toolbar
The Add Data or Tool button is discussed in Creating model processes.

Navigation tools are discussed in Navigating a model.

Select Element allows you to select an element for moving, copying, accessing properties, and deleting.

The Connect tool connects elements, such as a data variable to a tool, and is discussed in Creating model processes.

The Run button runs the model and is discussed in Running a model.

You cannot customize this toolbar.
The topics that follow discuss the use of ModelBuilder and the mechanics of creating, editing, and managing models.

Model building approaches discusses the two basic approaches to model building.

When you build a model, you create processes (a process is a tool plus its data) and the connections between them, and Creating model processes shows you how.

You can run your models within ModelBuilder, or execute them like any other tool using the tool dialog or the Command Line window. Running a model shows you how to run models within ModelBuilder.

Validating a model shows you how to check your model for errors and to synchronize data variables.

Model environments discusses the use of geoprocessing environment variables and how they can be used in models.

Model appearance shows how you can change the look and arrangement of model elements to increase readability.

You can print a model diagram (Printing a model), generate and print a report (Model reporting), and export a model to a script (Exporting a model).

Model documentation is very important for sharing models. Documenting a process shows how to provide documentation for individual model processes.
Please visit the
Feedback
page to comment or give suggestions on ArcGIS Desktop Help.
Copyright © Environmental Systems Research Institute, Inc.