You are here:
Geoprocessing > Sharing tools and toolboxes
If you use ArcSDE data as project data in tools you share across your LAN or in geoprocessing services, you need to provide an unambiguous connection to the ArcSDE database. This topic shows you how to copy an ArcSDE connection file to your ToolShare folder and use the copied connection in your models, as illustrated below.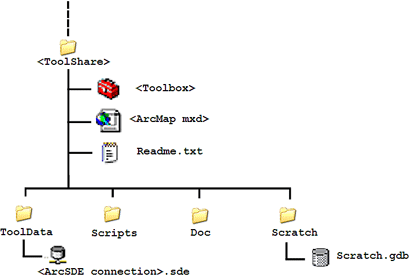 When users on your LAN connect to ArcSDE, they browse to the Database Connections folder in their ArcCatalog tree and double-click Add Spatial Database Connection to connect to an ArcSDE database using their credentials. They may also rename the connection from the default (such as changing Connection to DeepThought.sde to DeepThought.sde). The connection you use (such as DeepThought.sde) may not exist on another user's computer, and the model will fail because it cannot find the data it needs. You need to account for this situation when you share your tools across a LAN or as a geoprocessing service. This is what is meant by providing an unambiguous connection.

The steps below result in an unambiguous ArcSDE connection in the ToolData directory. If you share your folder across the LAN, you can use a UNC pathname to your ArcSDE database connection.




In ArcCatalog, browse to the Database Connections entry.

If needed, add a connection to the database.

Right-click the connection and click Copy.

Browse to the ToolData folder of your ToolShare folder and paste the connection. The example below shows the pasted connection, renamed to the name of the ToolShare folder, Forest, as illustrated below. Be sure to add the .sde suffix if you rename.





When you add ArcSDE data to a model, browse to this new connection file rather than the connection file in the Database Connections folder.



You now have an unambiguous database connection. When your model is executed across the LAN or as an geoprocessing service, the database will be found.

Please visit the
Feedback
page to comment or give suggestions on ArcGIS Desktop Help.
Copyright © Environmental Systems Research Institute, Inc.