You are here:
Geoprocessing > Using geoprocessing tools > Using the tool dialog
Several tools allow you to input a list of datasets such as the Append, Merge, and Union tools. Whenever a tool allows multiple inputs, it uses the multivalue parameter control. This multivalue control is a bit more complex than the majority of controls you'll use.
The example used here is the Union tool. The Union tool takes any number of input feature classes, and for each feature class, you can assign a rank.
When the Union tool is opened, the first parameter control is the multivalue control, as shown below in ArcMap.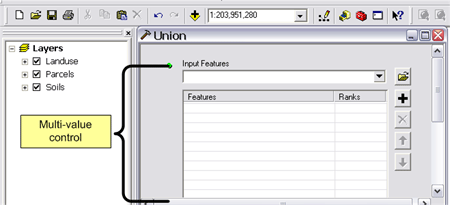 Adding layers and datasets
To add a layer to the list of input feature classes, select it from the drop-down list and it will be added to the list of input features.

Typing in a pathname
You can also type in the pathname to the dataset, then click the Add button to add it to the list.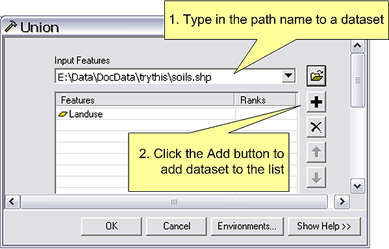 Using drag and drop
You can also drag and drop single or multiple layers from ArcMap onto the list, as shown below. When you're in ArcCatalog, you can select datasets and drag and drop them as well.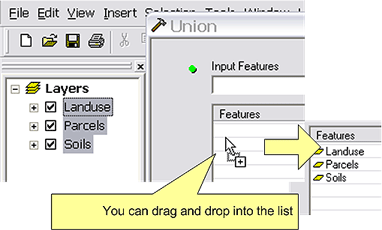 Removing list entries
To remove an entry from the list, click the row to highlight it and click Delete, as shown below.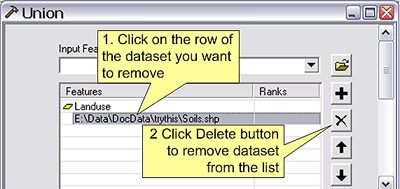 Order of values in the list
Some tools take meaning from the list order, and you can change the list order by highlighting the row and clicking the up and down arrow buttons, as shown below. The up and down arrow buttons are always available, even if the the order of the datasets doesn't affect the tool. Read the documentation for the tool you're using to see if the order has any effect.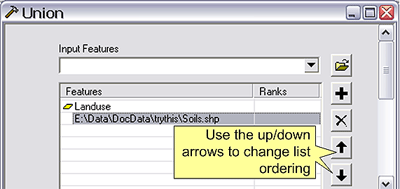 Editing other columns
The
Union
tool also takes a rank for each dataset, and this rank appears as a second column in the list of datasets. To change the rank for a particular dataset, click the cell you want to change and edit the value. Not all tools have additional information about each dataset. The
Append
tool, for example, has a single column. Other tools have multiple columns.