An overview of ArcSDE geodatabase connections
An overview of ArcSDE geodatabase connections

Release 9.3
All ArcSDE geodatabases are stored on a server. The server can be local (the geodatabase and client application are on the same machine) or remote (the geodatabase server is separate from the computer on which the client application is installed). In either case, to access the data in the geodatabase, you must make a connection to it. Connections to an ArcSDE geodatabase involve the method used to connect to the geodatabase and the actual action of connecting to the geodatabase from within the client application. For example, you can make a connection to an ArcSDE geodatabase from ArcCatalog with a spatial database connection.

To administer ArcSDE geodatabases for SQL Server Express, you can also connect to these geodatabases by first making a connection to a database server, then connecting to the geodatabase, as shown below.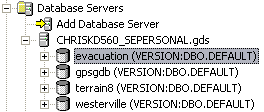 This is the action of connecting to the geodatabase. For your users to connect to the geodatabase from ArcGIS Desktop software, you must provide them with connection information. For details on the specific information you must provide to users so they can connect to an ArcSDE geodatabase from ArcCatalog, see Creating spatial database connections in the "Data management with ArcCatalog" section of the help. For information on connecting to a database server to administer geodatabases, see Adding an ArcSDE database server. The type of connection you make—a direct connection or through an ArcSDE service—is the connection method. For geodatabases created using an ArcGIS Server Enterprise license, you may choose to use just one type of connection at your site, or you can use both. For example, you could use an ArcSDE service for your ArcGIS Desktop clients and a direct connection for your ArcIMS server.

NOTE: Client and server release compatibility varies depending on the method of connection you use. See the "ArcSDE service" and "Direct connections" sections of this topic for details.

For ArcSDE geodatabases on SQL Server Express (ArcSDE database servers), a direct connection to the geodatabase is the only method of connection used.