You are here:
Extensions > Data Interoperability
Government agencies and other organizations around the world produce valuable spatial data in a wide variety of data formats (the internal structure of a file that enables computer use). These formats come in two varieties: native ArcGIS and nonnative ArcGIS.

Native ArcGIS formats are things like shapefiles, coverages, and any element in a geodatabase such as a feature class or table.

Nonnative, or external, formats include DWG/DXF, DLG, Danish UFO, S-57 Hydrographic Data Format, MicroStation Design, MapInfo MID/MIF, and MapInfo TAB, to name but a few.

If you need to use data stored in nonnative formats, then the ArcGIS Data Interoperability extension is for you. This extension allows you to read and write data in more than 70 different formats.
After installing this extension, four things happen:
ArcGIS will recognize nonnative formats and allow you to work with them directly, just like you would work with native ArcGIS formats. Data files based on these nonnative formats will appear in ArcCatalog, allowing you to add the data to ArcMap as a layer and use the data in geoprocessing. This capability is called direct read.




You cannot directly edit data formats accessed using the direct read capability. To edit, you must convert the nonnative data into a native ArcGIS format using the methods described below.


A new geoprocessing toolbox, Data Interoperability Tools, is installed. This toolbox contains the Quick Import and Quick Export tools. Quick Import will read data in nonnative formats and write it to native ArcGIS formats such as feature classes and shapefiles. Quick Export does the opposite, reading native ArcGIS formats and writing the data to a nonnative format. This capability is called quick conversion.





A new kind of custom geoprocessing tool, the Spatial ETL tool, is added to ArcToolbox. ETL stands for extract, transform, and load. The ETL tool allows you to define sophisticated custom data transformations to both winnow out unnecessary spatial and attribute information and enhance information by manipulating the attributes and spatial information. With the Spatial ETL tool, you can quickly and easily develop custom data transformations that would take a seasoned programmer weeks to accomplish. This capability is called data transformation.





A new top-level Catalog tree entry, Interoperability Connections, is added as shown below. Double-clicking Add Interoperability Connection walks you through the process of creating a new interoperability connection. An interoperability connection not only allows direct read of a data source, but you can also specify your own sophisticated data transformations using the same techniques used by the Spatial ETL tool described above.




The ArcGIS Data Interoperability extension has been developed and maintained collaboratively by ESRI and Safe Software Inc., the leading GIS interoperability vendor, and is based on Safe Software's popular Feature Manipulation Engine (FME®) product. The extension includes Safe Software's FME Workbench for building your custom data translators. When you create a geoprocessing spatial ETL tool or define a new interoperability connection, you'll be working with FME Workbench, illustrated below.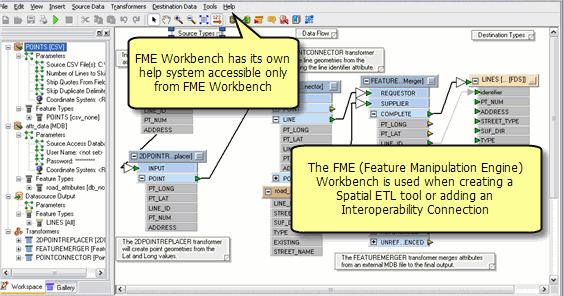 Learning more
A great place to start is with the Data Interoperability tutorial.
Click here to view the tutorial
. If this link doesn't work,
click here
to visit the main tutorial page, which gives further instructions on accessing tutorials.
Workbench comes with its own help system, which can be accessed from Workbench, as illustrated above. This help system provides help on both Workbench and the Data Interoperability tools. You should consult this help whenever you are creating spatial ETL tools.
Click here
to view this help.
Learn more about the key concepts of the Data Interoperability extension
.
Learn more about using the Data Interoperability extension
.
Please visit the
Feedback
page to comment or give suggestions on ArcGIS Desktop Help.
Copyright © Environmental Systems Research Institute, Inc.